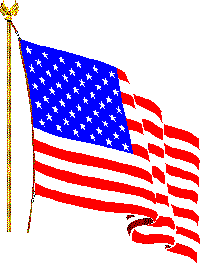 The Second Continental Congress determined the design of the American Flag, June 14, 1777. Within the papers of the Continental Congress the transcript reads:
" Resolved that the flag of the thirteen united states be 13 stripes alternate red and white, that the union be 13 stars white in a blue field representing a new constellation."
Thus was born the famous Stars and Stripes, a flag design that evolved over time as more states joined the Union. There are now 50 stars where there were once 13, and the nation has witnessed 236 years of a unique history.
Flag Day is now recognized on
June 14
, the "birthday" of the Stars and Stripes, as a result of the efforts of a Wisconsin teacher, Bernard John Cigrand. The National Flag Day Foundation explains on its website:
"In Waubeka, Wisconsin, in 1885, Bernard John Cigrand a nineteen-year-old school teacher in a one-room school placed a 10" 38-star flag in an inkwell and had his students write essays on what the flag meant to them. He called
June 14th
the flag's birthday. Stony Hill School is now a historical site. From that day on Bernard J. Cigrand dedicated himself to inspire not only his students but also all Americans in the real meaning and majesty of our flag."
As a result of Cigrand's efforts, Flag Day was officially proclaimed by President Wilson in 1916 to be celebrated on the anniversary of the Flag Resolution of 1777. It was President Truman, however, who signed an Act of Congress on August 3, 1949, establishing as Flag Day in the United States.
Flag Day Information taken from Fold3.
DAR Daughters remember to fly your flag proudly especially on
June 14th
.

Posted by Jackie Craft, Regent
Memorial Day...always the final Monday in May. This national holiday originated post-Civil War to honor both Union and Confederate soldiers who died in that conflict. This special day of honor quickly became the day to remember all men and women in the service who died serving their country. By the 20th century Memorial Day had become a long-weekend devoted to such things as shopping, family gatherings, and leisurely activities, such as a trip to the beach. Still this is a special time of remembrance.
American Legion Post 543 Memorial Day Ceremony
The Richard H. Stewart, Jr. American Legion Post 543 will hold a Memorial Day wreath ceremony at 11:00 AM on Monday, May 27th, 2013 at the Veterans Memorial adjacent to the St. James Community Center. All local communities are invited to attend. Our Master of Ceremonies will be Lee Norris and our guest speaker will be Retired Army Lieutenant General Joe Kinzer. Colors will be presented by the South Brunswick High School JROTC. There will be enough seating to accommodate all attendees. Carpooling is suggested as parking is at a premium. In case of inclement weather, the ceremony will take place inside the Community Center. Submitted by Sandy Kennedy, (910) 253-9674. (Dave Anderson and Steve Cherry, the publishers of ThisWeekStJames)
Memorial Day Celebration at the VFW Post 7288
T
he Memorial Day Celebration at the VFW Post 7288 in Calabash
,
North Carolina was a moving ceremony with Patriotic songs, speakers and wreath dedications. The most moving part of the ceremony was when they read the names of the veterans that died during the past years, loosing WWII vets is especially hard - The Greatest Generation. Thank God for our brave men and women.
Submitted by DAR member, Joan Hall